I count myself as fortunate because my profession is a passion to me. My journey began when  I was qualified from Guy's Hospital in 2003 and followed with five years as a  resident specialist at Harvard University in Cambridge, MA. My professors and mentors are regularly referred to as the 'best cosmetic dentist' or 'top implant dentist' in their fields. The key component to become the best dentist is through a love of dentistry and I am blessed to have this affection passed on to me.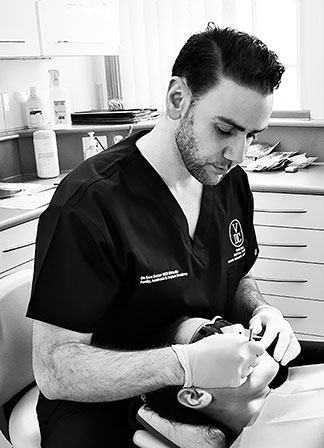 With an increased respect and knowledge of prosthodontics came a wish to teach. Â I was fortunate enough to lecture dental students and residents at Harvard, as well as, conducting classes for several years. When I moved to California, Â I worked in what many refer to as the top cosmetic and implant dental practice in Beverly Hills. Â I ran my own office near Malibu and because of my experience as an implant and cosmetic dentist, I was chosen by Biomet 3i to lecture and teach fellow specialists, general dentists and laboratory technicians.
On returning home to London five years later, I took over a practice from a very accomplished dentist, Dr. Vic Miller. I continue to care for the many patients whom Dr. Miller looked after for many years. We also welcome new patients to 40 Harley Street/Veritas Dental Care whether they are seeking either a new dentist for regular check-ups or more comprehensive, restorative or cosmetic dentistry.
I am privileged to practice with the advanced training and experience that undergoing specialty training in America can give you. I am fortunate to combine my experience from Harvard and my training in London to create what is called the best of both worlds.
My other interests include, but are not limited to, research where I have several publications in peer reviewed journals. Â I am also a member of the American Dental Society of London, a continuing education group that meets monthly to exchange ideas. I am a keen rugby and football follower and have also recently married in the last year to a fellow dentist.